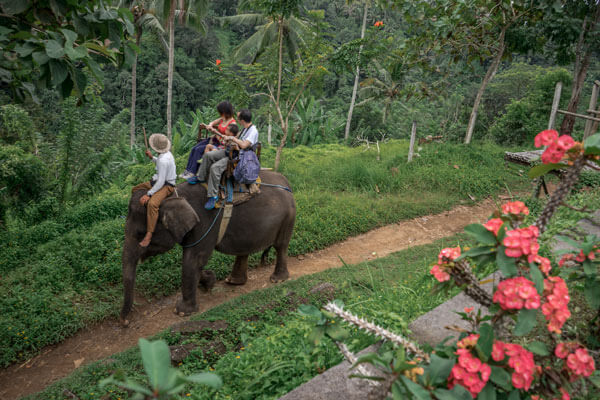 Riding elephants in Bali is one of Bali's highlights that you should try. One of the places where you can ride elephants is at the side of Ayung River. This place also closes to Sangeh Forest which is a monkey reservation. Precisely in Carangsari Village, the elephant tour will bring you to a new level of sightseeing. The village is the birthplace of Ngurai Rai who is a Bali's national hero. Riding elephant in this place means that you will see the beauty of Ayung River, rice paddies, and tropical forest as well as the history of Ngurah Rai's heroic story that will be good for your body, mind, and soul.
Benefits Of Riding Elephants In Bali
Riding elephants in Bali will make you healthy. You will encounter with a lot of natural beauty. The track is made specifically so the passengers can see natural beauty such as Balinese villages, a glimpse of local daily life, rice paddies, local markets, and sacred temples. Not only present the natural beauty of Bali but the tour also present interesting attraction from the elephants. Your riding will be filled with fun. Moreover, you will not only be riding elephants but also bathing them in Ayung River.
It's not fun if you not learn about the elephants after you rode them. The guide will also give you a knowledge about Sumatran elephants. This tour is also one of the ways to conserve this huge creature. You will know a daily life of Sumatran elephants by riding them. You are just not spending your money to ride them, but you also providing funds for elephant so they can get enough food and water. Their natural habit will also be protected with your money. For the animal lover, riding elephants in Bali is a must since you get closer to them. Don't forget to bring your camera!